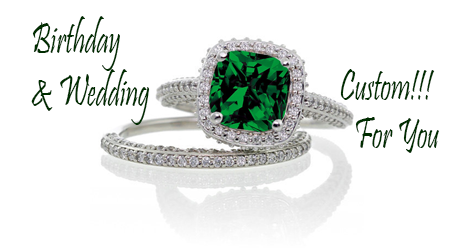 Jewelry World SCV features all Custom Made Jewelry. One of a kind pieces. You can even design your own… With some help from Jack
Emerald gemstone comes in different shapes and in a beautiful, radiant green colors with different shades. Jack has many different options for any person whose birthday is in August. If you'd like to get that Special Someone a beautiful piece of jewelry for their birthday, or just because, Jewel World SCV has just what you need.
Jewelry World SCV hopes and everyone stays healthy through this difficult time. For now the store is closed. Fingers crossed we plan to return in June. Please keep a look out on our Blog to know when we return. Until then, Stay Inside, Stay Healthy!
Click here to meet Jack and hear more about the services at Jewelry World.
Browse more jewelry online at Jewelry World or download our App on your mobile device!
Proud member of SCVPROMOS.com (a HotSpot Local program).
Jewelry World: 26530 Bouquet Canyon Rd | 661.297.7465 | www.jewelryscv.com